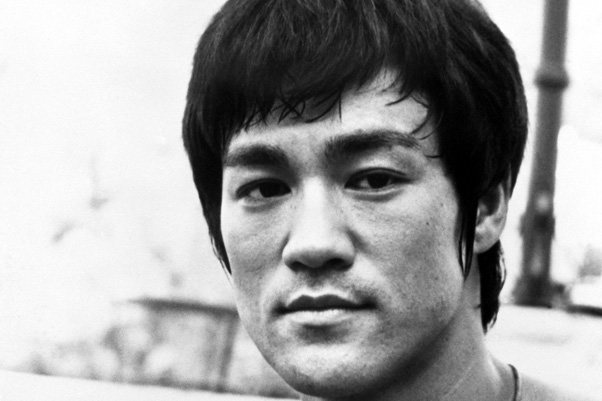 A fight is not won by one punch or kick. Either learn to endure or hire a bodyguard.
A goal is not always meant to be reached, it often serves simply as something to aim at.
A good martial artist does not become tense, but ready.
A martial artist who drills exclusively to a set pattern of combat is losing his freedom. He is actually becoming a slave to a choice pattern and feels that the pattern is the real thing. It leads to stagnation because the way of combat is never based on personal choice and fancies, but constantly changes from moment to moment, and the disappointed combatant will soon find out that his 'choice routine' lacks pliability. There must be a 'being' instead of a 'doing' in training. One must be free. Instead of complexity of form, there should be simplicity of expression.
A quick temper will make a fool of you soon enough.
A wise man can learn more from a foolish question than a fool can learn from a wise answer. Absorb what is useful, Discard what is not, Add what is uniquely your own.
Again let me remind you Jeet Kune Do is just a name used, a boat to get one across, and once across it is to be discarded and not to be carried on one's back.
All fixed set patterns are incapable of adaptability or pliability. The truth is outside of all fixed patterns.
All types of knowledge, ultimately mean self knowledge.
Always be yourself, express yourself, have faith in yourself; do not go out and look for a successful personality and duplicate it.
Art is the expression of the self. The more complicated and restricted the method, the less the opportunity for expression of one's original sense of freedom. Though they play an important role in the early stage, the techniques should not be too mechanical, complex or restrictive. If we cling blindly to them, we shall eventually become bound by their limitations. Remember, you are expressing the techniques and not doing the techniques. If somebody attacks you, your response is not Technique No.1, Stance No. two, Section four, Paragraph 5. Instead you simply move in like sound and echo, without any deliberation. It is as though when I call you, you answer me, or when I throw you something, you catch it. It's as simple as that – no fuss, no mess. In other words, when someone grabs you, punch him. To me a lot of this fancy stuff is not functional.
As long as I can remember I feel I have had this great creative and spiritual force within me that is greater than faith, greater than ambition, greater than confidence, greater than determination, greater than vision. It is all these combined. My brain becomes magnetized with this dominating force which I hold in my hand.
Be like water making its way through cracks. Do not be assertive, but adjust to the object, and you shall find a way round or through it. If nothing within you stays rigid, outward things will disclose themselves.
Before I studied the art, a punch to me was just like a punch, a kick just like a kick. After I learned the art, a punch was no longer a punch, a kick no longer a kick. Now that I've understood the art, a punch is just like a punch, a kick just like a kick. The height of cultivation is really nothing special. It is merely simplicity; the ability to express the utmost with the minimum. It is the halfway cultivation that leads to ornamentation. Jeet Kune-Do is basically a sophisticated fighting style stripped to its essentials.
Being is more valued than doing.
Boards don't hit back.
Do not deny the classical approach, simply as a reaction, or you will have created another pattern and trapped yourself there.
Don't fear failure. – Not failure, but low aim, is the crime. In great attempts it is glorious even to fail.
Don't get set into one form, adapt it and build your own, and let it grow, be like water. Don't think, feel… it is like a finger pointing a way to the moon. Don't concentrate on the finger or you will miss all that heavenly glory!
Empty your mind, be formless. Shapeless, like water. If you put water into a cup, it becomes the cup. You put water into a bottle and it becomes the bottle. You put it in a teapot it becomes the teapot. Now, water can flow or it can crash. Be water my friend.
Eventually, you learn to read groups of words. Where a student will see three motions, the experienced man will see one, because he sees the overall energy path.
Ever since I was a child I have had this instinctive urge for expansion and growth. To me, the function and duty of a quality human being is the sincere and honest development of one's potential.
Finally, a Jeet Kune Do man who says Jeet Kune Do is exclusively Jeet Kune Do is simply not with it. He is still hung up on his self-closing resistance, in this case anchored down to reactionary pattern, and naturally is still bound by another modified pattern and can move within its limits. He has not digested the simple fact that truth exists outside all molds; pattern and awareness is never exclusive.
Forget about winning and losing; forget about pride and pain.
Give up thinking as though not giving it up. Observe techniques as though not observing.
I am learning to understand rather than immediately judge or to be judged. I cannot blindly follow the crowd and accept their approach. I will not allow myself to indulge in the usual manipulating game of role creation. Fortunately for me, my self-knowledge has transcended that and I have come to understand that life is best to be lived and not to be conceptualized. I am happy because I am growing daily and I am honestly not knowing where the limit lies. To be certain, every day there can be a revelation or a new discovery. I treasure the memory of the past misfortunes. It has added more to my bank of fortitude.
I am not teaching you anything. I just help you to explore yourself.
I believe in sleeping.
I fear not the man who has practiced 10,000 kicks once, but I fear the man who has practiced one kick 10,000 times.
I have not invented a 'new style,' composite, modified or otherwise that is set within distinct form as apart from 'this' method or 'that' method. On the contrary, I hope to free my followers from clinging to styles, patterns, or molds. Remember that Jeet Kune Do is merely a name used, a mirror in which to see 'ourselves'… Jeet Kune Do is not an organized institution that one can be a member of. Either you understand or you don't, and that is that.
I hope martial artists are more interested in the root of martial arts and not the different decorative branches, flowers or leaves.
I refer to my hands, feet and body as the tools of the trade. The hands and feet must be sharpened and improved daily to be efficient.
If I tell you I'm good, you would probably think I'm boasting, If I tell you I'm no good, You know I'm lying.
If nothing within you stays rigid, outward things will disclose themselves. Moving, be like water. Still, be like a mirror. Respond like an echo.
If one loves, one need not have an ideology of love.
If there is a God, he is within. You don't ask God to give you things, you depend on God for your inner theme.
If you always put limit on everything you do, physical or anything else, it will spread into your work and into your life. There are no limits. There are only plateaus, and you must not stay there, you must go beyond them.
If you don't want to slip up tomorrow, speak the truth today.
If you love life, don't waste time, for time is what life is made up of.
If you make an ass out of yourself, there will always be someone to ride you.
If you spend too much time thinking about a thing, you'll never get it done.
If you think a thing is impossible, you'll make it impossible.
If you want to do your duty properly, you should do just a little more than that.
If you want to learn to swim, jump into the water. On dry land, no frame of mind is ever going to help you.
I'm not a master, I'm a student-master, meaning that I have the knowledge of a master and the expertise of a master, but I'm still learning, So I'm a student-master. I don't believe in the word master, I consider the master as such when they close the casket.
In building a statue, a sculptor doesn't keep adding clay to his subject. Actually, he keeps chiselling away at the inessentials until the truth of its creation is revealed without obstructions. Thus, contrary to other styles, being wise in Jeet Kune-Do doesn't mean adding more; it means to minimize, in other words to hack away the unessential.
In combat, spontaneity rules; rote performance of technique perishes.
In Jeet Kune-Do, physical conditioning is a must for all martial artists. If you are not physically fit, you have no business doing any hard sparring. To me, the best exercise for this is running. Running is so important that you should keep it up during your lifetime. What time of the day you run is not important as long as you run. In the beginning you should jog easily and then gradually increase the distance and tempo, and finally include sprints to develop your 'wind.' Let me give you a bit of warning: just because you get very good at your training it should not go to your head that you are an expert. Remember, actual sparring is the ultimate, and the training is only a means toward this. Besides running, one should also do exercises for the stomach – sit-ups, leg raises, etc. Too often one of those big-belly masters will tell you that his internal power has sunk to his stomach; he's not kidding, it is sunk and gone! To put it bluntly, he is nothing but fat and ugly.
In the middle of difficulty lies opportunity.
It is true that the mental aspect of kung-fu is the desired end; however, to achieve this end, technical skill must come first.
Jeet Kune Do is training and discipline towards the ultimate reality in combat. Jeet Kune-Do is the only non-classical style of Chinese Kung Fu in existence today. It is simple in its execution, although not so simple to explain. Jeet means 'to stop, to stem, to intercept,' while Kune means 'fist' or 'style,' and Do means 'the way' or 'the ultimate reality.' In other words – 'The Way of the Intercepting Fist.'
Jeet Kune Do uses no way as way. The consciousness of self is the greatest hindrance to the proper execution of all physical action.
Knowing is not enough, you must apply; willing is not enough, you must do.
Knowledge in martial arts actually means self-knowledge. A martial artist has to take responsibility for himself and accept the consequences of his own doing. The understanding of JKD is through personal feeling from movement to movement in the mirror of the relationship and not through a process of isolation. To be is to be related. To isolate is death. To me, ultimately, martial arts means honestly expressing yourself. Now, it is very difficult to do. It has always been very easy for me to put on a show and be cocky, and be flooded with a cocky feeling and feel pretty cool and all that. I can make all kinds of phoney things. Blinded by it. Or I can show some really fancy movement. But to experience oneself honestly, not lying to oneself, and to express myself honestly, now that, my friend, is very hard to do.
Knowledge will give you power, but character respect.
Learn the principle, abide by the principle, and dissolve the principle. In short, enter a mold without being caged in it. Obey the principle without being bound by it. Learn, master, and achieve!
Let the spirit out – Discard all thoughts of reward, all hopes of praise and fears of blame, all awareness of one's bodily self. And, finally closing the avenues of sense perception, let the spirit out, as it will.
Life is better lived than conceptualized.
Life is wide, limitless. There is no border, no frontier.
Life itself is your teacher, and you are in a state of constant learning.
Like everyone else you want to learn the way to win, but never to accept the way to lose – to accept defeat. To learn to die is to be liberated from it. So when tomorrow comes you must free your ambitious mind and learn the art of dying!
Love is like a friendship caught on fire. In the beginning a flame, very pretty, often hot and fierce, but still only light and flickering. As love grows older, our hearts mature and our love becomes as coals, deep-burning and unquenchable.
Make at least one definite move daily toward your goal.
Man, the living creature, the creating individual, is always more important than any established style or system.
Mere technical knowledge is only the beginning of Kung Fu, to master it, one must enter into the spirit of it.
Mistakes are always forgivable, if one has the courage to admit them.
Nothingness cannot be defined; the softest thing cannot be snapped.
Notice that the stiffest tree is most easily cracked, while the bamboo or willow survives by bending with the wind.
Nowadays you don't go around on the street kicking people, punching people – because if you do, well that's it – I don't care how good you are.
Out of chaos, find simplicity. From discord, find harmony.
Practice all movements slow and fast, soft and hard; the effectiveness of Jeet Kune-Do depends on split-second timing and reflexive action, which can be achieved only through repetitious practice.
Put every great teacher together in a room, and they'd agree about everything; put their disciples in there and they'd argue about everything.
Real living is living for others.
Running water never grows stale. So you just have to 'keep on flowing.'
Showing off is the fool's idea of glory.
Simplicity is the key to brilliance.
Styles tend to not only separate men – because they have their own doctrines and then the doctrine became the gospel truth that you cannot change. But if you do not have a style, if you just say: Well, here I am as a human being, how can I express myself totally and completely? Now, that way you won't create a style, because style is a crystallization. That way, it's a process of continuing growth.
Take no thought of who is right or wrong or who is better than. Be not for or against.
Take things as they are. Punch when you have to punch. Kick when you have to kick.
The best fighter is not a Boxer, Karate or Judo man. The best fighter is someone who can adapt on any style. He kicks too good for a Boxer, throws too good for a Karate man, and punches too good for a Judo man.
The combatant should be alive in sparring, throwing punches and kicks from all angles, and should not be a co-operative robot. Like water, sparring should be formless. Pour water into a cup, it becomes part of the cup. Pour it into a bottle; it becomes part of the bottle. Try to kick or punch it, it is resilient; clutch it and it will yield without hesitation. In fact, it will escape as pressure is being applied to it.
The first rule is to keep yourself well covered at all times and never leave yourself open while sparring around the bag. By all means use your footwork – side stepping, feinting, varying your kicks and blows to the bag. Do not shove or flick at it. Explode through it and remember that the power of the kick and punch comes from the correct contact at the right spot and at the right moment with the body in perfect position; not, as many people think, from the vigor with which the kicks or blows are delivered.
The great mistake is to anticipate the outcome of the engagement; you ought not to be thinking of whether it ends in victory or in defeat. Let nature take its course, and your tools will strike at the right moment.
The height of cultivation runs to simplicity. Halfway cultivation runs to ornamentation.
The highest technique is to have no technique. My technique is a result of your technique; my movement is a result of your movement. A good JKD man does not oppose force or give way completely. He is pliable as a spring; he is the complement and not the opposition to his opponent's strength. He has no technique; he makes his opponent's technique his technique. He has no design; he makes opportunity his design. One should not respond to circumstance with artificial and 'wooden' prearrangement. Your action should be like the immediacy of a shadow adapting to its moving object. Your task is simply to complete the other half of the oneness spontaneously.
The key to immortality is first living a life worth remembering.
The less effort, the faster and more powerful you will be.
The main characteristic JKD is the absence of the usual classical passive blocking. Blocking is the least efficient. Jeet Kune-Do is offensive; it's alive and it's free.
The mind is like a fertile garden in which anything that is planted, flowers or weeds, will grow.
The more relaxed the muscles are, the more energy can flow through the body. Using muscular tensions to try to 'do' the punch, or attempting to use brute force to knock someone over, will only work to opposite effect.
The old-fashioned punching speed bag teaches you to hit straight and square; if you don't hit it straight the bag will not return directly to you. Besides learning footwork, you can hit the bag upward too.
Another important function is that after the delivery of the punch, the bag will return instantaneously and this will teach you to be alert and to recover quickly. The bag should not be hit in a rhythmic motion but instead in a broken rhythm. Actually fight the bag as if it is your opponent.
The perfect way is only difficult for those who pick and choose. Do not like, do not dislike; all will then be clear. Make a hairbreadth difference and heaven and earth are set apart; if you want the truth to stand clear before you, never be for or against. The struggle between 'for' and 'against' is the mind's worst disease.
The point is doing of them rather than the accomplishments. There is no actor but the action; there is no experiencer but the experience.
The possession of anything begins in the mind.
The void is no mere emptiness, but is real, free and existing. It is the source from which all things arise and return. It cannot be seen, touched or known, yet it exists and is freely used. It has no shape, size, color or form, and yet all that we see, hear, feel and touch is 'it'. It is beyond intellectual knowing and cannot be grasped by the ordinary mind. When we suddenly awake to the realization that there is no barrier, and has never been seen, one realizes that one is all things, mountains, rivers, grasses, trees, sun, moon, stars, universe are all oneself. There is no longer a division or barrier between myself and others, no longer any feeling of alienation or fear. Realizing this, results in true compassion. Other people and things are not seen as apart from oneself, on the contrary, as one's own body.
There are no limits. There are plateaus, but you must not stay there, you must go beyond them.
There is no fixed teaching. All I can provide is an appropriate medicine for a particular ailment.
There is no mystery about my style. My movements are simple, direct and non-classical. The extraordinary part of it lies in its simplicity. Every movement in Jeet Kune-Do is being so of itself. There is nothing artificial about it. I always believe that the easy way is the right way. Jeet Kune-Do is simply the direct expression of one's feelings with the minimum of movements and energy. The closer to the true way of Kung Fu, the less wastage of expression there is.
There is only one type of body, two arms, two legs, etc that make up the human body. Therefore, there can only be one style of fighting. If the other guy had four arms and two legs, there might have to be a different one. Forget the belief that one style is better than the other, the point of someone that does not just believe in tradition, but actually wants to know how to fight is to take what you need from every martial art and incorporate it into your own. Make it effective and very powerful, but don't worry if you are taking moves from many different arts, that is a good thing.
Thoughts are things.
To develop proper distance and penetration against a moving target, use a partner equipped either with a body protector or an air bag. He can either stand still and take the brunt of the kick, or he can back away from the attack. The former teaches proper application of the kick, especially valuable in teaching beginners. The latter training is to teach penetration. As soon as your partner thinks you will attack, he tries to back away as fast as possible. This practice is valuable to both men; one learns to penetrate and the other to back away quickly. The body protector is sometimes used for sharpening the attack. The partner will not attack but will maintain a correct distance in a ready fighting pose. As you begin to attack, he will try to counter, block, or move away. You will have almost the actual feeling of hitting your opponent in a real situation.
To hell with circumstances. I create opportunities.
To know oneself is to study oneself in action with another person.
To me totality is very important in sparring. Many styles claim this totality. They say that they can cope with all types of attacks; that their structures cover all the possible lines and angles, and are capable of retaliation from all angles and lines. If this is true, then how did all the different styles come about? If they are in totality, why do some use only the straight lines, others the round lines, some only kicks, and why do still others who want to be different just flap and flick their hands? To me a system that clings to one small aspect of combat is actually in bondage.
To reach the masses, some sort of big organization (whether) domestic and foreign branch affiliation, is not necessary. To reach the growing number of students, some sort of pre-conformed set must be established as standards for the branch to follow. As a result all members will be conditioned according to the prescribed system. Many will probably end up as a prisoner of a systematized drill.
Truth has no path. Truth is living and, therefore, changing.
Use only that which works, and take it from any place you can find it.
Using no way as way, having no limitation as limitation.
Voidness is that which stands right in the middle between this and that. The void is all-inclusive, having no opposite – there is nothing which it excludes or opposes. It is living void, because all forms come out of it and whoever realizes the void is filled with life and power and the love of all being. When people talk about fighting schools they say that Kung Fu, or Karate, or this other style is the best. That is silly, and the problem becomes that the fighting style then becomes set in stone with no growth, and no adaptation, because what works well with me might not work for you.
When performing the movements, always use your imagination. Picture your adversary attacking, and use Jeet Kune-Do techniques in response to this imagined attack. As these techniques become more innate, new meaning will begin to emerge and better techniques can be formulated.
When there is freedom from mechanical conditioning, there is simplicity.
When you fight, if it is a real fight, use every tool that you have, use your whole body. Use your fists, your legs, your fingers, your head if you have to, and hit them in every vulnerable spot, the balls, the eyes etc. to win.
When you're talking about fighting, as it is, with no rules, well then, baby you'd better train every part of your body!
You know what I want to think of myself? As a human being. Because, I mean I don't want to be like 'As Confucius say,' but under the sky, under the heavens there is but one family. It just so happens that people are different.